Lake Erie Landlord Association
"A landlord resource for more than 30 years"
See the LELA Event Calendar below for all events
Lake Erie Landlord Association
---
The Lake Erie Landlord Association, LELA, (founded in 1988), is a non-profit, educational organization providing a means for exchanging land-lording and real estate information. We strive to educate, inform, exchange ideas and improve the status, as well as the financial well being of all housing providers. Our members are known locally as landlords that work to improve the condition of housing for everyone.
The monthly meeting programs consist of prominent speakers in areas of general interest to landlords, property managers and real estate investors. We also provide a platform for open forums to discuss issues our members are facing in the field, and tons of networking opportunities. Monthly meetings are held on the first Tuesday of every month at 7:00 PM. We meet at Miraldi Hall @ Heritage Presbyterian Church, 515 Leavitt Rd Amherst, OH 44001.  

If you are someone who has a strong interest to improve the quality of your life, we have the class for you. Our 7 week (28 hour) collegiate level training if specifically designed to match your natural strength to the appropriate technique that best serves you. By playing to your strength your real estate investing career will flourish and your world will change. Whether you are and seasoned veteran in investing looking to sharpen your skills or just someone who is changing careers who desires more out of life, this course is for you. Each class will include a great meal and a very powerful and entertaining lecture by our featured instructor… READ MORE HERE

Chuck Miller – SPT
Specialized Plumbing Technologies (SPT) is the proven leader in drainage plumbing solutions. Our commitment to technology means you get to see problems for yourself so you can make knowledgeable and confident decisions about the solution. SPT investigates, diagnoses and solves plumbing problems with minimal downtime and destruction, every time. Our commitment to training and professionalism is rivaled only by our commitment to quality and attentive service.
SPT has been working with commercial property owners, managers and associations for more than 20 years. We are your partner for investigative plumbing, maintenance and rehabilitation. Our mission to keep your sanitary system operating like it should – out of sight and out of mind.
Contact Chuck for your plumbing needs!
419-366-2050 | chuckm@sptpipe.com | https://sptpipe.com/
Rental Property Calculator
---
2018 Property Reappraisal Presentation
---
LELA Members can now access an important 2018 Property Reappraisal presentation from a recent LELA meeting. Just click on the image below to access it from the Member Form Page.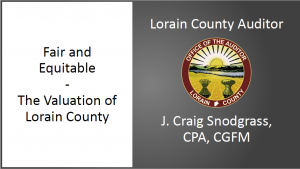 2019 Toys For Tots Donation
---

In the Spirit of Giving
As most of you remember, last year, as an Association we gave over 220 toys to local children in need. This year I challenge you to DOUBLE that. From November 1st until December 20th, our office will again be a drop location for Toy for Tots for Lorain County. Every member that drops off a qualifying toy will receive one raffle ticket per qualifying toy that goes towards winning a special gift! This year we are purchasing $150 in lottery tickets for a special "lottery ticket train" that could be yours and yours alone! The winner will be drawn on December 23rd, after Toys For Tots picks up our box on December 20th. (Make sure you put all your contact information on the part of the ticket you leave for us so we can get a hold of you!!)
Nov
19
Tue
LELA Workshop – Dale Guenther – Flipping-November 2019

@ LELA Office in Lorain
Nov 19 @ 7:00 pm – 9:00 pm
Dale Guenther from Builders Design Inc
Dale will share his experiences with rehabbing and flipping homes. Don't miss this meeting if you've ever been interested in doing this type of real estate.
Dec
3
Tue
2019 HOLIDAY PARTY

@ Avon Isle
Dec 3 @ 6:00 pm – 8:30 pm
Come join us for for dinner, goodies, photo booth fun, Chinese raffles, and gifts galore!!  The cost will be $25 per person and we will be accepting payments via the website, over the phone, check, mail, in office, etc. We will put your name on the list once you're paid! It's that easy! Vendors, please contact the office if you are willing to contribute to the Gifts/Raffles.  How better to promote your business than to give a small gift card or promotional items?
Buy Your Tickets here:
Buy your tickets securely via PayPal! Don't have a PayPal account? No problem, once you click "Buy Now" button you will be taken to a PayPal page and choose the option, "Pay with Debit or Credit Card" near the bottom.
Dec
17
Tue
LELA Workshop – Laminate Flooring – December 2019

@ LELA Office in Lorain
Dec 17 @ 7:00 pm – 9:00 pm
Laminate Flooring
Association Vendor Member Chris Zietler with Jamie's Carpet Shop will be here to share all the do's and don't's of laminate flooring!!
Due Diligence For Buying REI Houses by Andrew Syrios Due diligence is an extremely tedious, unpleasant and boring thing to do. It is also absolutely essential for any real estate investor. Proper due diligence is absolutely vital to avoid making costly mistakes. I,...
read more
10 Inexpensive Ways to Spruce Up Your Rental or Rehab Property by Bill Bronchick It's easy to fix up your properties if you have unlimited cash. However, you need to keep your repairs to a Related Information: "Flipping Properties Course" minimum to stay profitable....
read more