Lake Erie Landlord Association
"A landlord resource for more than 30 years"
See the LELA Event Calendar below for all events
Lake Erie Landlord Association
---
The Lake Erie Landlord Association, LELA, (founded in 1988), is a non-profit, educational organization providing a means for exchanging land-lording and real estate information. We strive to educate, inform, exchange ideas and improve the status, as well as the financial well being of all housing providers. Our members are known locally as landlords that work to improve the condition of housing for everyone.
The monthly meeting programs consist of prominent speakers in areas of general interest to landlords, property managers and real estate investors. We also provide a platform for open forums to discuss issues our members are facing in the field, and tons of networking opportunities. Monthly meetings are held on the first Tuesday of every month at 7:00 PM. We meet at Miraldi Hall @ Heritage Presbyterian Church, 515 Leavitt Rd Amherst, OH 44001.  

If you are someone who has a strong interest to improve the quality of your life, we have the class for you. Our 7 week (28 hour) collegiate level training if specifically designed to match your natural strength to the appropriate technique that best serves you. By playing to your strength your real estate investing career will flourish and your world will change. Whether you are and seasoned veteran in investing looking to sharpen your skills or just someone who is changing careers who desires more out of life, this course is for you. Each class will include a great meal and a very powerful and entertaining lecture by our featured instructor… READ MORE HERE

Chicago Title
Kathe Pittman
(440) 933-2936
https://www.cttohio.com/north/sheffieldvillage.htm
Chicago Title offers a wide variety of services for customers from Real Estate Investors, to Builders, to Lenders.  People are our greatest assets, from our employees to our customers, we hold the relationships we build with one another, within our community, country and world, in the highest esteem.
Kathe Pittman is just one of the remarkable members of our team of professionals behind the industry's best-in-class title solutions. Kathe has over 30 years of experience in title and escrow, a foundation that has given her a wonderful perspective on customer service and the importance of follow up and team work. Kathe's knowledge and experience have positioned her to be a champion for her customers.
"If you want to build a successful long-term enterprise, you don't close a sale, you open a relationship."
Kathe believes her success is directly related to the success of her customers. Their success stories are a direct reflection of how effective she is in creating a positive experience and outcome for all involved parties, in each and every transaction.
Rental Property Calculator
---
2018 Property Reappraisal Presentation
---
LELA Members can now access an important 2018 Property Reappraisal presentation from a recent LELA meeting. Just click on the image below to access it from the Member Form Page.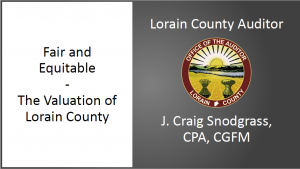 Congratulations to Eric Przybylski and family! Your new addition is adorable!!!
It's gonna be HOT!!! Keep your pets and children safe! Check on everyone you know! Stay hydrated!
To beat the heat this weekend, cities in Lorain County are trying to help residents stay cool. The National Weather Service in Cleveland issued an excessive heat watch for significant portions of Northern Ohio over the weekend. It will be in effect Friday afternoon to Saturday evening. Lorain County...
Home Depot Pro Customers,

Good morning!

For the next 5 days, at select Home Depot stores, you can receive an 11% Menard's rebate* on select items.

Please contact us, visit your local store or click the link below for a list of participating stores and products.

https://www.homedepotrebates11percent.com/

*rebate is issued in the form of a Home Depot gift card.

Have a GREAT day!
Due Diligence For Buying REI Houses by Andrew Syrios Due diligence is an extremely tedious, unpleasant and boring thing to do. It is also absolutely essential for any real estate investor. Proper due diligence is absolutely vital to avoid making costly mistakes. I,...
read more
10 Inexpensive Ways to Spruce Up Your Rental or Rehab Property by Bill Bronchick It's easy to fix up your properties if you have unlimited cash. However, you need to keep your repairs to a Related Information: "Flipping Properties Course" minimum to stay profitable....
read more